Meinhardt Singapore and Sharjah Electricity & Water Authority Ink Memorandum of Understanding for a Collaborative Water Management Development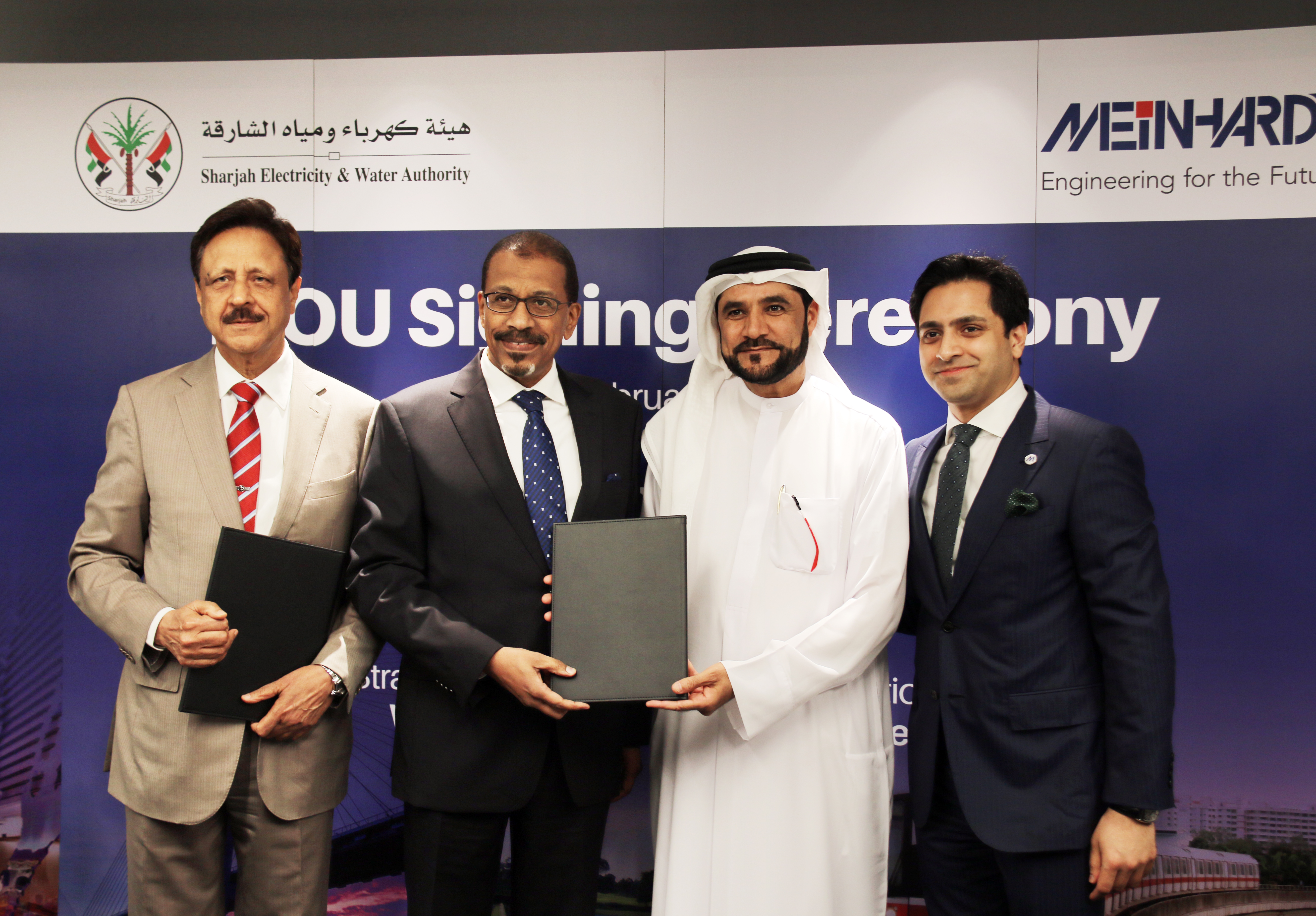 Meinhardt Singapore, a global leading multi-disciplinary engineering and project management consultancy, and Sharjah Electricity & Water Authority (SEWA) have signed a Memorandum of Understanding (MOU) today to create a collaborative platform to assist SEWA in its mission to provide world-class strategic planning, design, operations and management of its water supply infrastructure. Held at Meinhardt's headquarters in Singapore, the signatories are His Excellency Dr Rashid Al Leem, Chairman of SEWA and Dr Shahzad Nasim, Group Executive Chairman of Meinhardt. This ceremony is also graced by the United Arab Emirates Ambassador to Singapore, His Excellency Dr Mohamed Omar Abdulla Balfaqeeh.
To kickstart this partnership, Meinhardt has identified six initiatives to modernise the water storage infrastructure in Sharjah; these include planning and engineering design consultancy services for the Strategic Water Storage Reservoirs for Water Crisis Management and the capacity building for SEWA. Through these training programmes held in Meinhardt Singapore Water Training Centre, Meinhardt will share their global expertise for efficacious implementation and management of Sharjah's water infrastructure.
Dr Shahzad Nasim, Meinhardt Group Executive Chairman said: "We are excited to partner with SEWA to augment the reliability and robustness of Sharjah's water supply system. Sharjah is the third largest city in the United Arab Emirates and we are privileged to develop a long-term relationship with SEWA which will benefit a population of 2.5 million by 2025. Together with our unrivalled tracked record in water sector and our strong presence in the Middle East, we are confident in assisting SEWA to become a leading water utility company."
His Excellency Dr Rashid Al Leem, Chairman of SEWA said: "SEWA is pleased to sign this cooperation MOU with Meinhardt. Meinhardt's breadth and depth of expertise in utilities infrastructure development and manpower training will be an additional strength for SEWA. We also hope to leverage on Meinhardt's project management to have our projects delivered expeditiously and within budget."
Said Mr Kow Juan Tiang, Group Director of Environment & Infrastructure Solutions Group at International Enterprise Singapore, "IE Singapore has been supporting Meinhardt in setting up the Water Training Centre. We have also engaged several governments in South Asia and the Middle East for the training of officials on water resource management. IE Singapore is happy to see the training centre continues to be a platform where Meinhardt is able to share its expertise and experience with overseas governments."
This collaboration arises from a business mission to Sharjah led by PUB, Singapore's national water agency, in October 2015 to explore potential areas of cooperation.
-End-